What is the Future of Magnuson Park's Most Historic Building?
$30 million Project Seeks Community Input on Uses and Funding
Contact: Julianna Ross, Magnuson Park Advisory Committee

206.245.5457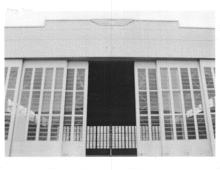 On Saturday, June 6, from 1pm – 5pm, the community is invited to take part in a visioning charrette regarding development of the park's most historically significant building, Building 2. The day begins with a rare 40-minute tour of the building. From there, attendees will go to the Officers Club in the newly renovated Building 30 to view current plans and gather information pertinent to the building's redevelopment which is sure to take a complex mix of partners and funding. The public's thoughts will be recorded throughout the breakout sessions of the day and used to inform Seattle Parks and Recreation's support for the building's development.
Representatives will be on hand from the Seattle Office of Arts and Culture, the Seattle Office of Film and Music and Next Step Archery. The film industry has long had an interest in using the building as a sound stage, while Next Step Archery is hoping to turn the building into a sports complex featuring archery, lacrosse and other athletic uses. In addition to potential developers, information will be available regarding possible funding mechanisms and historical building facts placing it in context within the park and its many master plans.
Originally constructed in 1929, the building is comprised of two airplane hangars and many office and studio areas throughout its 144,000 square feet. 
Attendees are asked to register for the event at http://building2.brownpapertickets.com/ and come prepared to learn, contribute ideas and problem solve around the many aspects of the project. This event is hosted by the Magnuson Park Advisory Committee (MPAC).